KINKAN Kenkokan is a Kampo (traditional Japanese herbal medicine) Pharmacy in Nagasaki.
Staying healthy and happy is everyone's dream.
Nowadays, we have too much information about health and this information overload confuses us about which information to choose.
KINKAN Kenkokan is a Kampo (traditional Japanese herbal medicine) pharmacy that will answer your health questions based on Kampo and tell you how you can live a healthier life.
Kampo has been developed systematically based on the knowledge gained through human experiments for thousands of years.
Generally, Kampo is thought of as the taking herbal medicine, but it is also an academic field that focuses on eating, exercise and how to cope with stressors in order to improve our health and life.
Eating right is the most important part of Kampo.
Each person's body is unique, and each person lives in different circumstances which affect their body.
Kampo takes into account these differences and suggests what and how to eat according to the season or a person's characteristics. Usually, seasonal locally grown food is recommended.
However, these days, people can get any food and eat without thinking about the consequences of their body.
For example, eating lots of chilled tropical fruits in the winter will cause problems for the body.
Kampo may activate the natural healing power of a person's body.
By knowing the pattern and characteristics of your body, we find what food and daily routines are good for us.
We try to treat our clients in a state of pre-symptomatic disease.
Some of these ingredients in Kampo medicine are the same food people eat daily.
Ginger, red beans, shiso leaves and cinnamon are well known and it is easy to see their effectiveness.
KINKAN Kenkokan identifies your patterns by Kampo examination including a questionnaire and examination of your face, tongue, skin and limbs.
After identifying your patterns, we teach you how to improve your lifestyle and how to deal with physical problems.
We can prescribe and post herbal medicines if you need them.
Please feel free to e-mail us about your condition and change your life with our support.
We can support people who worry about their health, including people who want to lose their weight.
Products and cafes at KINKAN Kenkokan
Products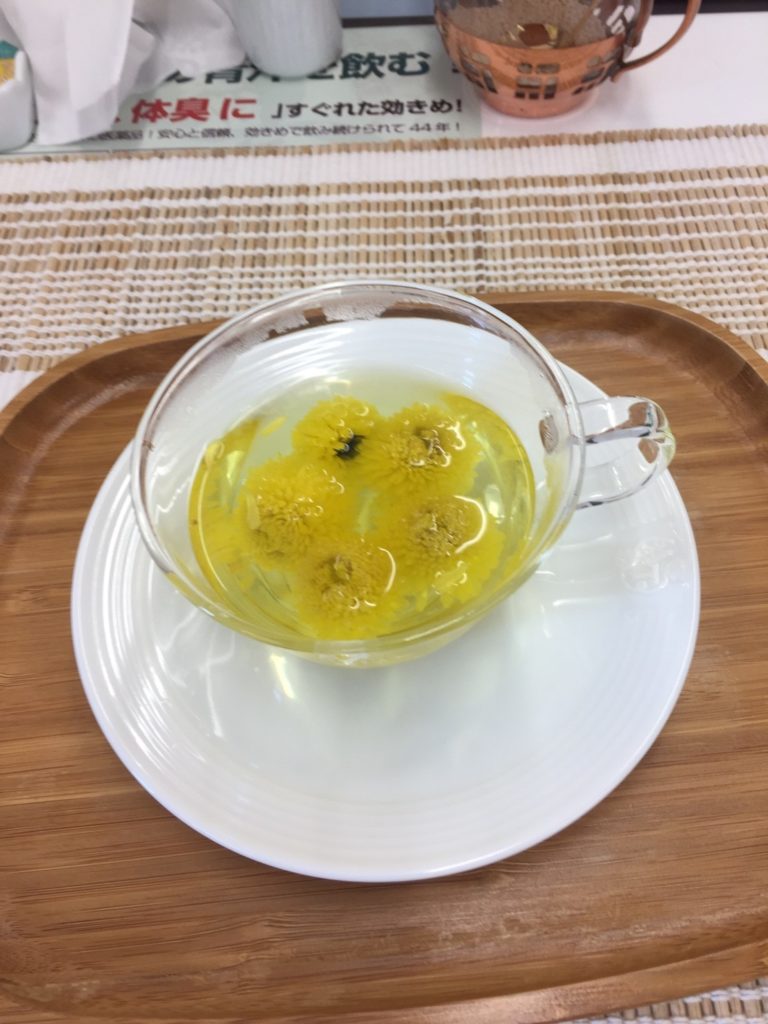 We sell healthy seasonings and organic foods.
・Sun-dried sea salt made with deep seawater
・Coffee
・Tea
・Biwa (loquat) tea from Nagasaki
AND so on!
Organic cafe
Our philosophy is "safe and delicious food". We offer a special menu that uses products that are available at KINKAN Kenkokan.
Homemade raw Amazake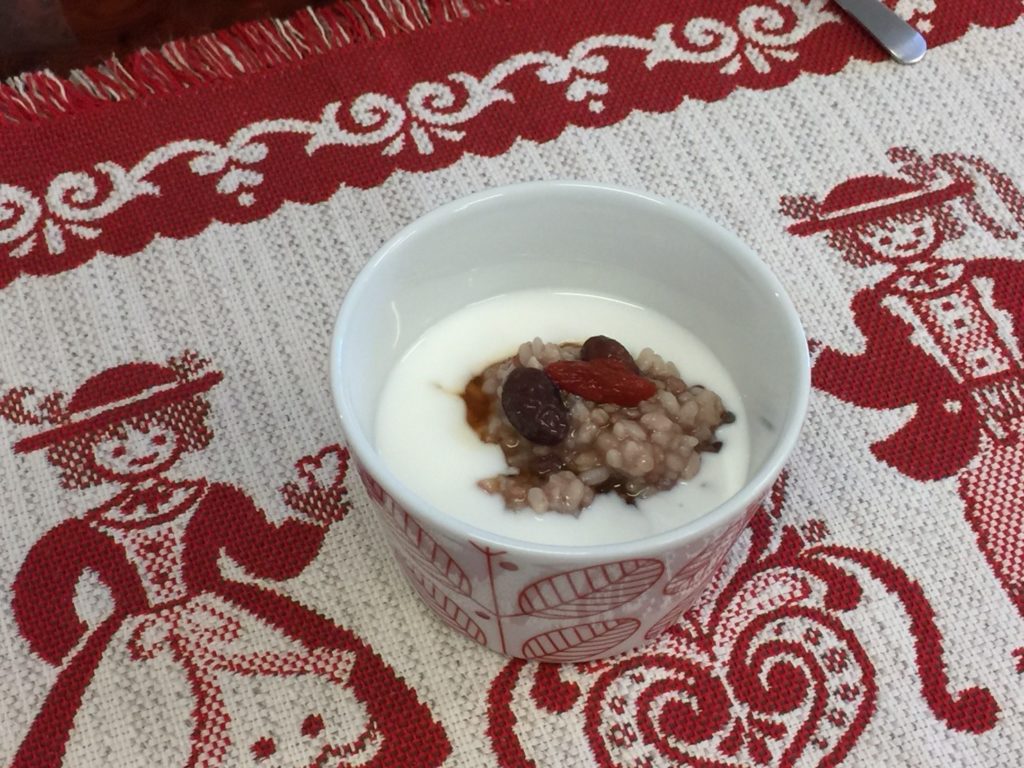 It is a traditional sweet made from fermented rice. It is organic and preservative-free, but it has the natural sweetness of rice saccharified by the Japanese yeast.
Japanese people have loved this natural food for more than 1000 years.
Amazake is a nutritious drink which contains glucose, oligosaccharide, various amino acids, polyphenols, dietary fibre, vitamins (especially from the vitamin B group) and minerals.
The natural sweetness of Amazake with sour yoghurt is a perfect match.
We use a complete organic pesticide-free rice cultivated by the Duck-rice farming method in the rich nature of Fukuchiyama, Kyoto to make Amazake.
Homemade cake
Gluten-free Gateau Chocolat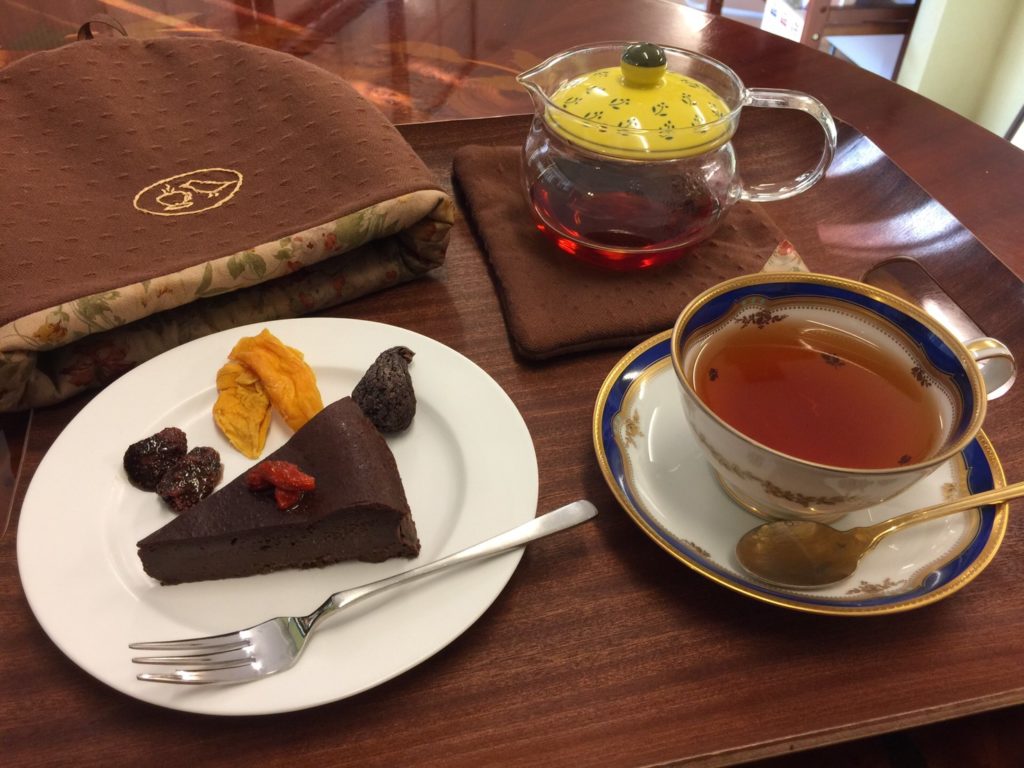 This melts in your mouth and has tons of deep chocolate flavour
The pesticide-free "Tree" To Bar Chocolate "Chocolat Madagascar" which won every award at the International Chocolate Awards, raw sugar and Nagasaki tangerine honey and fresh cream with no additive are used.
Cheesecake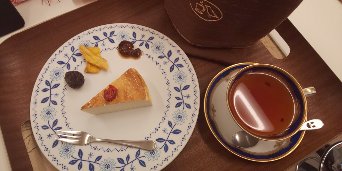 OTCO certified cream cheese was lavishly used.
Animal rennet is not used.
Raw sugar and Nagasaki tangerine honey are used.
Lightly sweetened and rich cheese flavour.
We also provide natural or organically grown coffee and tea, De-café drink, light meals such as homemade bread and cereal porridge with adlay.
Please relax and satisfy your mind and body at our cafe.
We provide seasonal meals which nutritious and easy to digest considering the harmony with nature.
Most of the ingredients are locally and organically grown dedicatedly.
Medicinal rice porridge set course
① Aperitif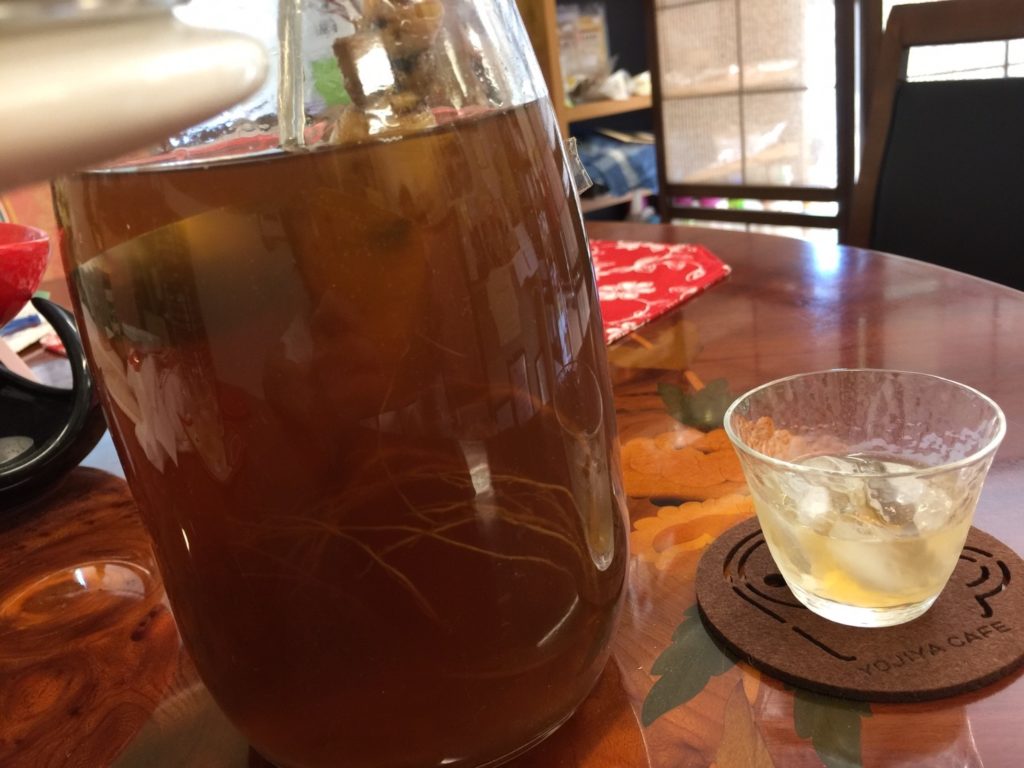 Precious ingredients such as Ganoderma lucidum, Panax notoGinseng, Panax Ginseng, or fruits such as plums, kumquats and bayberry are used.
Only honey is used for sweetness.

② Porridge made from brown rice and tricolour rice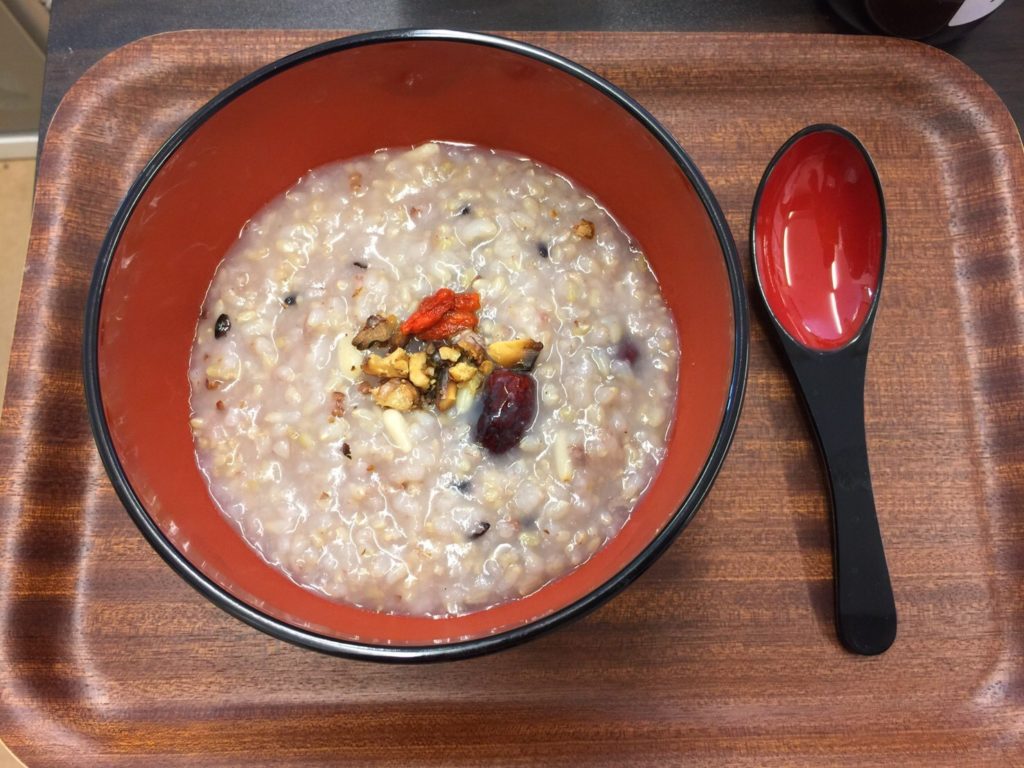 Brown rice with the ancient rice including red, black and green rice are well cooked so it will be easy to digest than an ordinary one. Natsume and other Kampo ingredients are also added.
These ancient rice are rich in minerals, dietary fibre and vitamins such as vitamin B.
③ Japanese pickled vegetables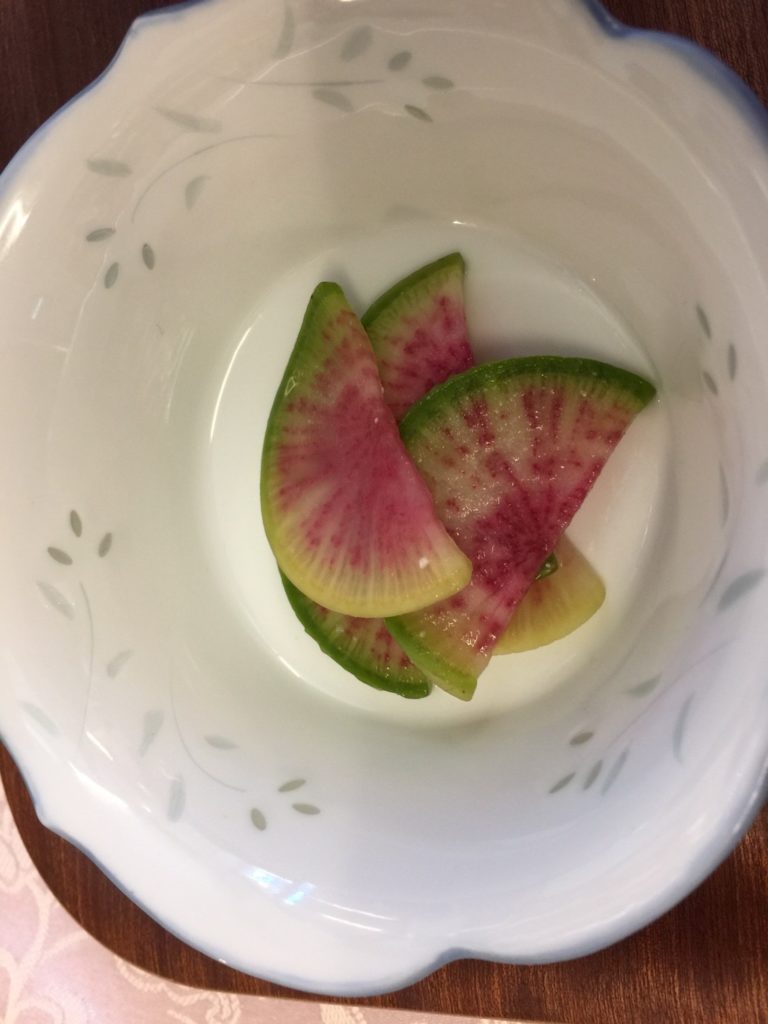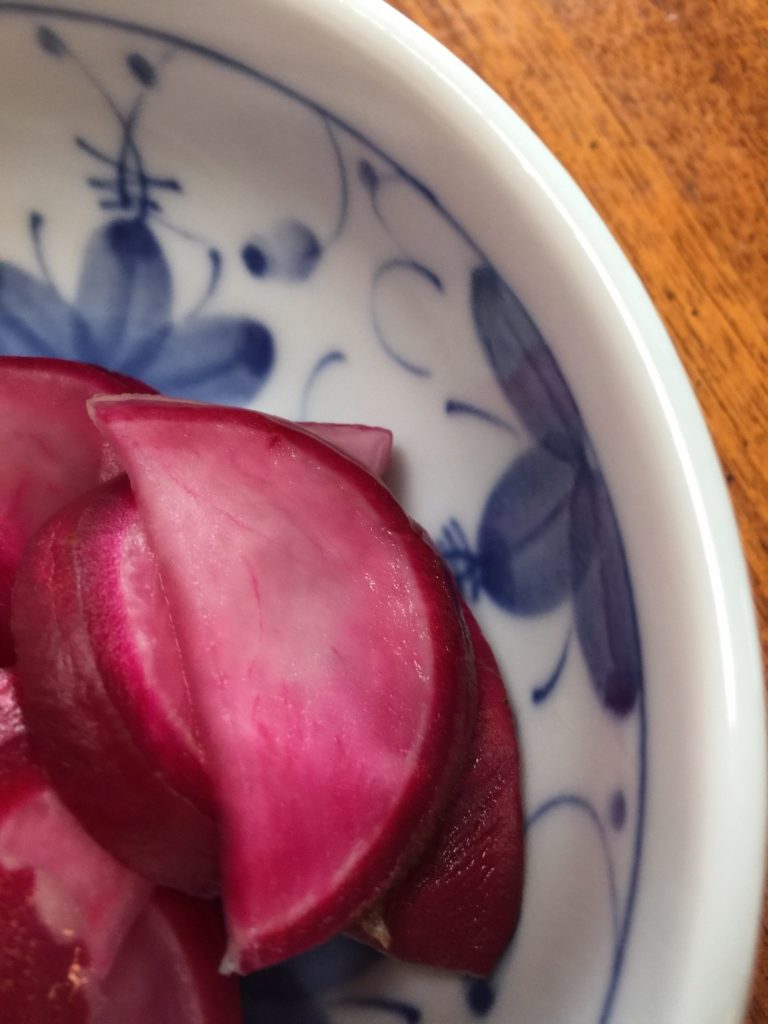 Pickles are mainly made from seasonal vegetables and salt using lactic acid fermentation method.
Examples of summer pickles: Cucumbers, eggplants and carrot
Examples of winter pickles: Chinese cabbage and radish
They get along with rice.
④ Ohitashi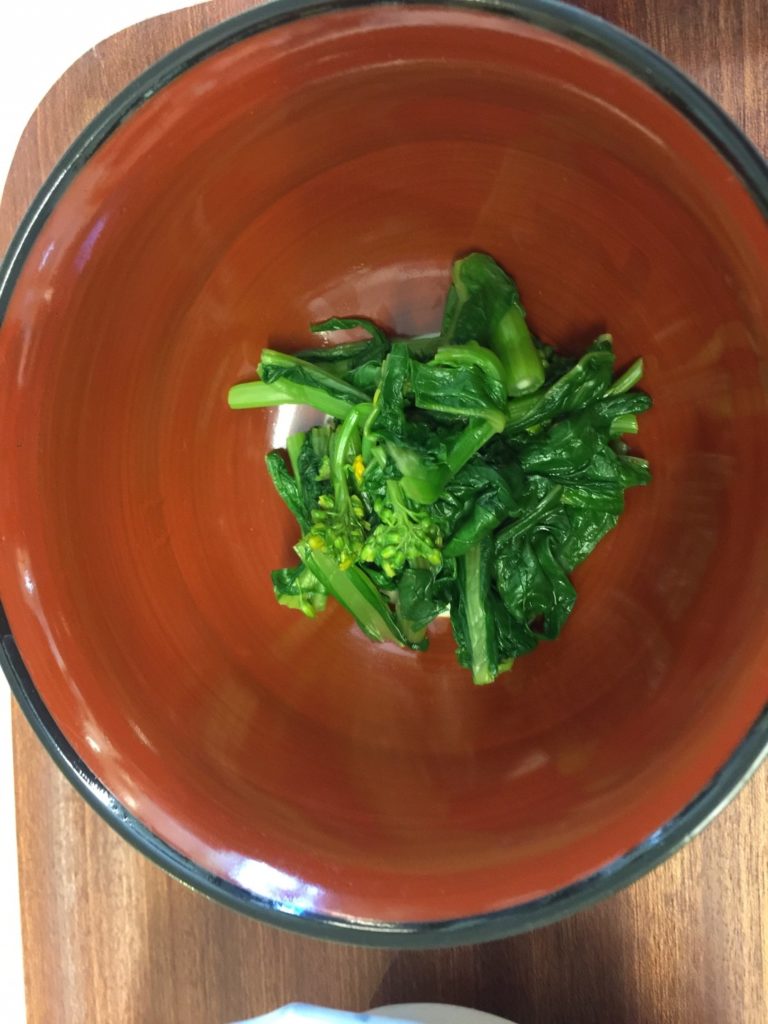 Boiled green salad (e.g. rape blossoms and garland chrysanthemum in spring, Basella alba in summer, and spinach in winter) are seasoned with soy source and sesame. In the cold season, spices (such as Japanese pepper and ginger) can be added.
⑤ Goma(sesame) Tofu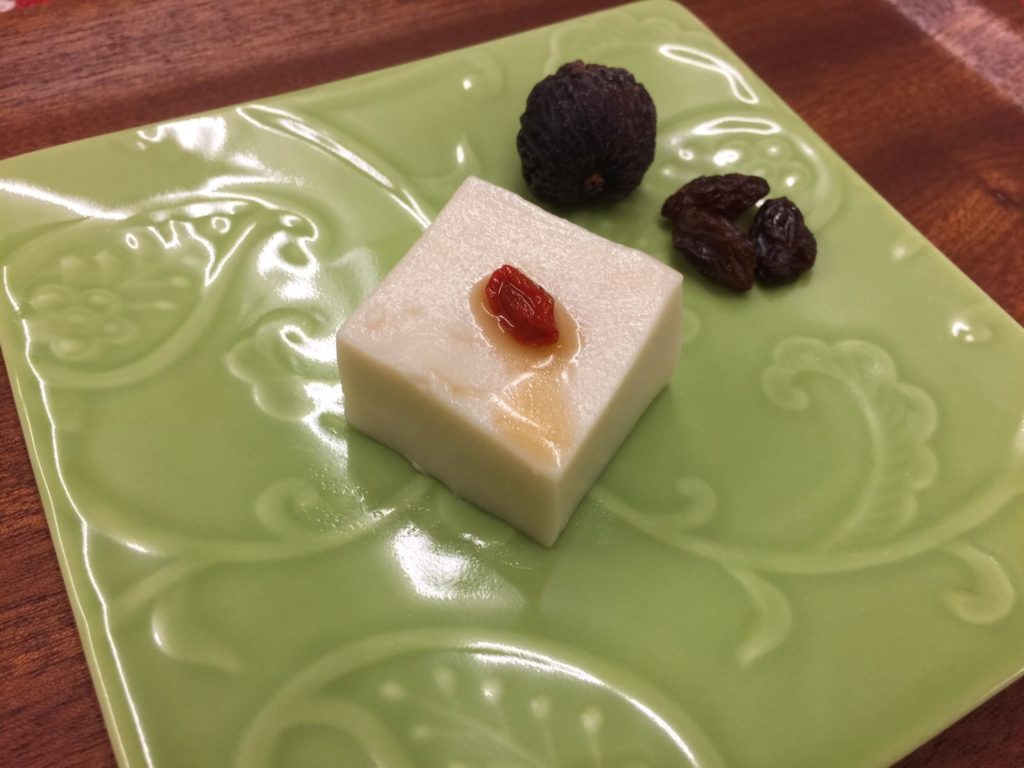 Made only with sesame and hon-kudzu (arrowroot), it can be delicious as a side dish or as a dessert, depending on the seasoning.
Sesame seeds are rich in vitamins, minerals and oils.
Kudzu is used as herbal medicine. It warms the stomach in winter.
⑥ Cereal porridge with adlay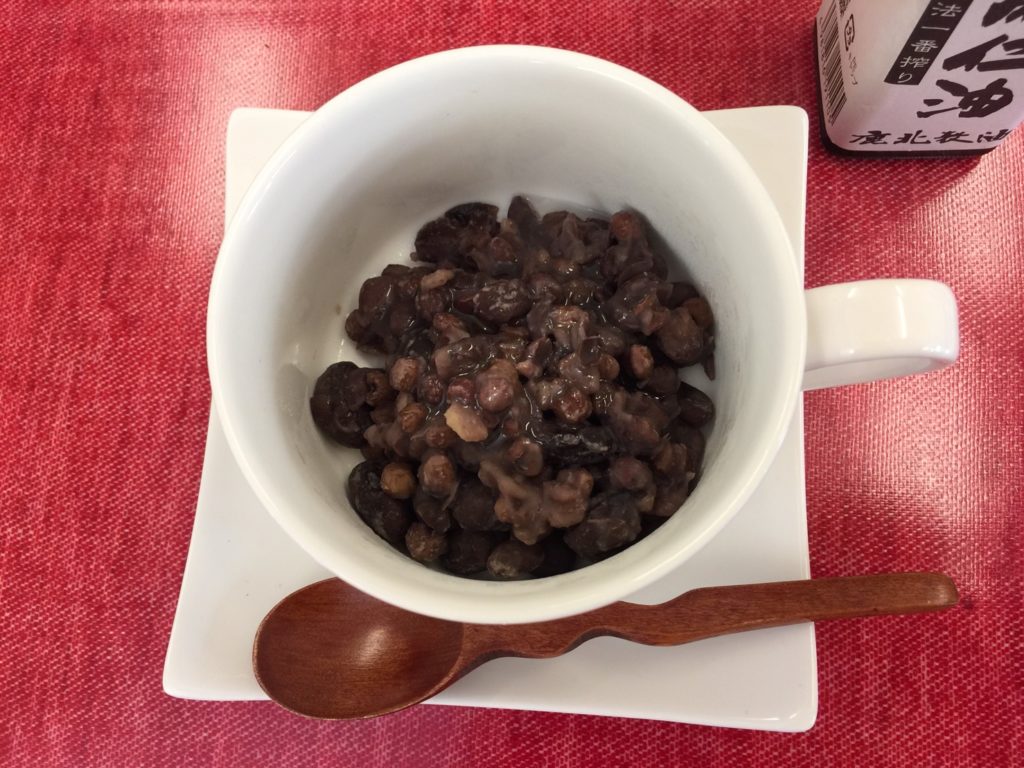 Well cooked adlay, red and black beans, and other cereals with salt. Linseed oil is added before eating.
The adlay is often used under the name Yokuinin (coix seed) in Kampo, which eliminate excessive fluids in the body(Nishimura, 2014).

Nishimura, M., Ohkawara, T., Kagami-Katsuyama, H., Sekiguchi, S., Taira, T., Tsukada, M., Shibata, H. &Nishihira, J. (2014) Alteration of intestinal flora by the intake of enzymatic degradation products of adlay (Coix lachryma-jobi L. var. ma-yuen Stapf) with improvement of skin condition. Journal of Functional Foods. 7, 487-494.
⑦ Fluffy baked yam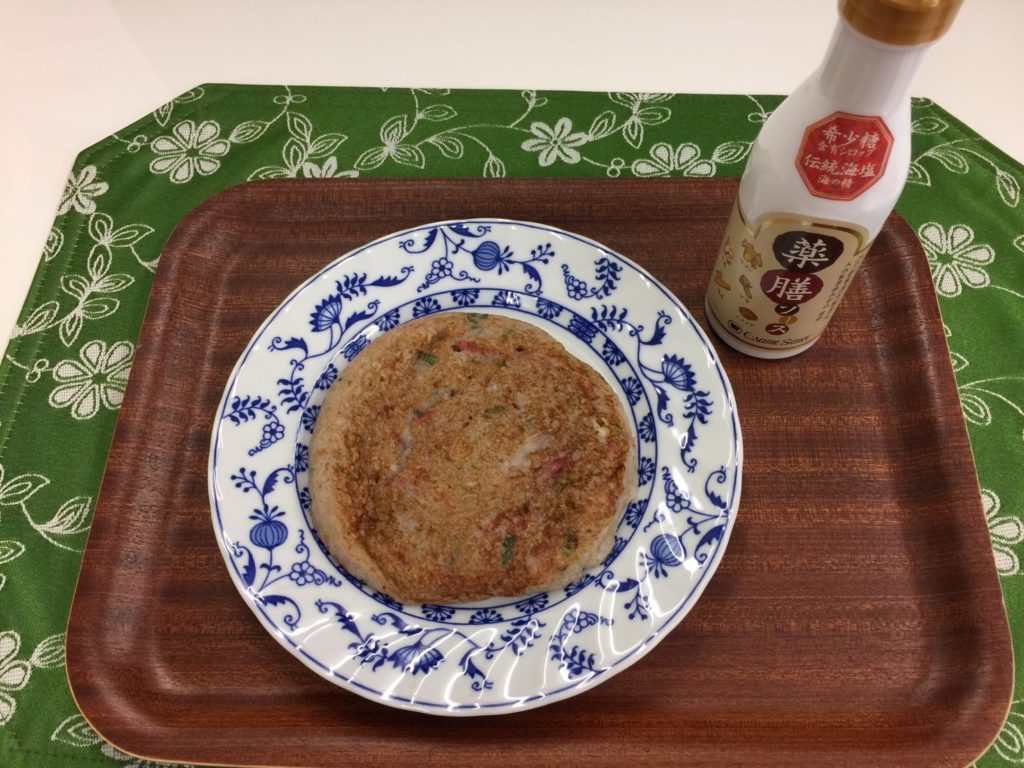 Yam is used for Kampo medicine as a nutritious tonic food and is good for the digestive system. Red ginger and green onion are added and baked.
⑧ Stir-fried burdock and carrots with sweet vinegar
Combine burdock (bitter flavour) and carrots (sweet flavor), salt, spices and sweet vinegar, which constitute all of the five flavors of Kampo.
⑨ Dessert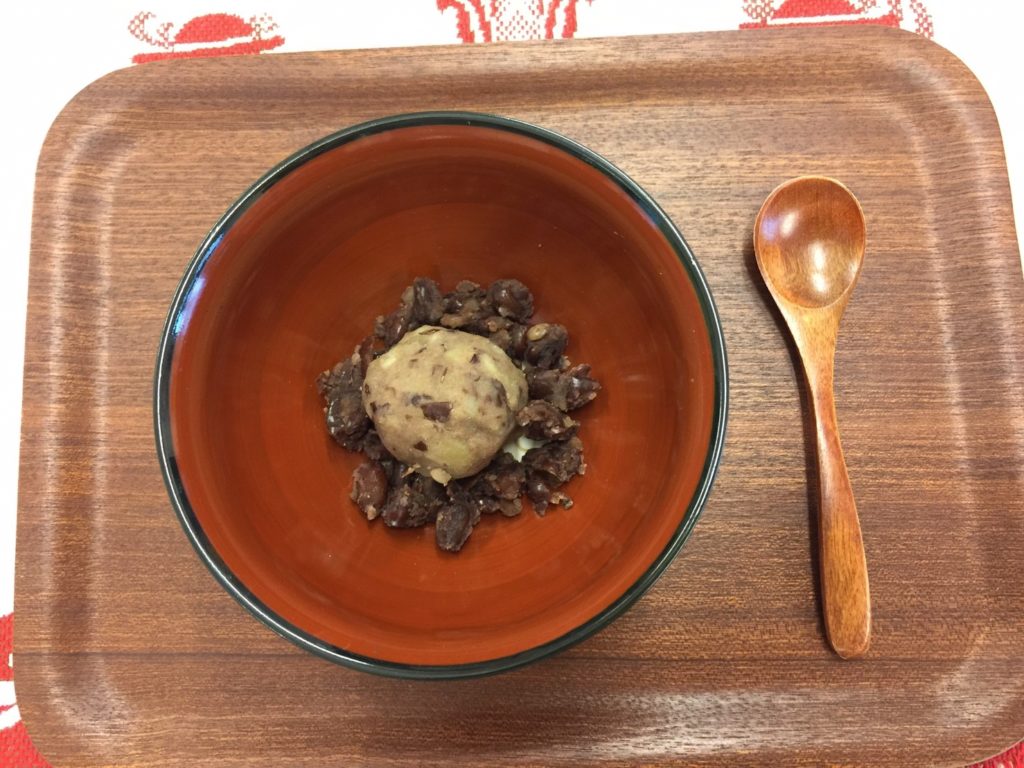 Amazake
Kudzu jelly cake
A ball of red beans with season's vegetables and fruits
The size of the meal can be adjusted to your needs.
Customer's voice
① Female, 60s
The first time I visited the pharmacy, I wasn't suffering from a major illness, but I was unwell.
The pharmacist listened carefully and made me feel reassured.
I thought taking prescribed Kampo medicine wouldn't be difficult, but the treatment wasn't like that.
She insisted that "consume less water" and "take salt as indicated". It was the opposite of the healthy method I had been doing! I was suspicious but my body temperature increased 35 degrees to 36. That winter, I didn't catch a cold and suffer from chilblain
I visit the pharmacy once a week to talk to the pharmacist to keep up my motivation for health.
②Female, 40s
I started treatment in February 2018.
Although I had no major illnesses, I felt tired and had stiff shoulders and headaches several times a month. I also had hay fever and had taken antihistamines for many years.
I had constipation and was bothered by PMS.
The pharmacist listened carefully and prescribed Kampo medicine.
Herbal medicines did not make an immediate change as antihistamines had, but there was gradual change in my body.
Constipation, headache, hay fever and other problems are better now.
The pharmacist taught me that not only Kampo, but also daily diet can affect physical wellbeing. I learned the importance of healthy eating.
This pharmacy sells products that are good for the body, such as pesticide-free and natural foods.
I was surprised that I lost 3 kilos even though I had no dietary restrictions or exercise requirements.
The pharmacist explained it was excessive fluid being eliminated from the body.
I want to stay healthy with good eating habits and Kampo.
③Female, 30s
I learned the importance of choosing what to eat wisely.
Foods have all kinds of additives which can cause us to become sick.
I was taking a lot of water but in my case, it was causing headaches and menstrual cramps.
Now I no longer take painkillers during my period. Problems like swelling, catching a cold, fatigue and other symptoms are better.
Additionally, my hearing ability is improved. Now I can hear a high-pitched sound which I couldn't hear before.
The pharmacist told me that the function of my kidney has been improved by Kampo.
In addition, based on the idea of harmony of five flavours, I try to use seasonings such as salt, soy sauce, and sugar depending on the season.
In my case, while I do take Kampo medicine, I can only do part of the herbal diet. Despite this, I continue to do it where I can.
My skin is getting better and I'm looking forward to seeing my body change little by little.
The pharmacist explains things well that I understand and feel reassured.
I recommend that you consult with her if you have any problems.
Location
KINKAN Kenkokan is 6 min walk from Ohashi station. 2-12, Erimachi, Nagasaki city
Credit cards are accepted.